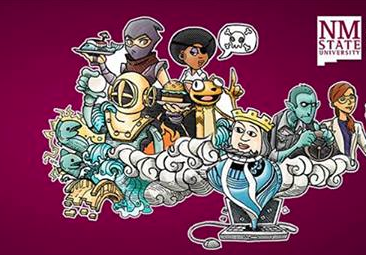 Innovative Media Research and Extension (formerly known as Media Productions) produces educational, research-based games and media for a wide variety of partners. Our games, videos, apps and interactive tools have been accessed more than 92 million times since 2011.
Our Learning Games Lab is a development studio, a user-testing research space, and an exploratory environment for playing and evaluating games and educational tools.
Faculty in our department partner with research groups and programs nationally and internationally to create educational media in various disciplines. We have partnered with more than 70 universities, agencies, and nonprofit groups on projects funded by NSF, USDA, DOE, the State of New Mexico, and private funders, and bring 30 years' experience producing innovative media on many platforms. Ongoing research in the Learning Games Lab informs development of effective tools and contributes to the larger body of knowledge about digital and interactive media.
Land Acknowledgment
New Mexico State University honors Native American knowledges and worldviews based on intimate relationships to the natural world. The genesis of the Southwest Indigenous Peoples, including the Pueblo, Navajo, and Apache, established their guardianship of the lands now occupied by New Mexico State University. As the state's Land-Grant University, we acknowledge and respect the sovereign Indian Nations and Indigenous Peoples. We pledge to have a meaningful and respectful relationship with the sovereign Indian Nations, Indigenous communities, and Native American Peoples within the institution.