Food Safety and Nutrition Resources
Games & Interactives
Outbreak Squad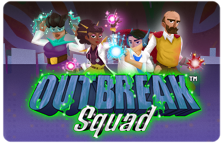 Do you have what it takes to lead the squad? Use your team of heroes to research, educate, heal, and protect people. Keep the community from getting sicker!
Play Outbreak Squad
Ninja Kitchen
You're a ninja - and a short order cook. Prepare and serve food safely before your customers walk away. Sophisticated gameplay reveals principles of food safety.
Play Ninja Kitchen. And don't make anyone sick!
Potluck Panic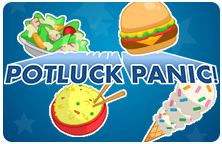 Potluck time! You are tasked with making sure food gets assembled with food safety in mind, from factory to potluck. As you advance in the game, gather knowledge and skill to prevent multiple food disasters at once.
Play Potluck Panic!
Virtual Labs (Food Science)

Interactive food science modules train high school and college students in laboratory skills and concepts relevant to food science, including using a microscope, testing for aflotoxin, culturing bacteria, measuring pH, and using disposable lab equipment.
Try the Virtual Labs
Eat-&-Move-O-Matic

Learn about the foods you eat and how they help fuel your body for your favorite activities. Make new discoveries about your favorite foods and get interesting tips on how small changes can make big differences.
Try the Eat-&-Move-O-Matic
Safe Preparation of Beef Jerky

Beef jerky is prepared via a variety of methods. This interactive allows users to specify the method they use and shows what key steps are necessary for a safe product in each case.
Explore Safe Preparation of Beef Jerky
Eat It, Tweet It

The Eat It Tweet It application helps you track your food behavior - what you eat and why. Researchers have used the app as part of a group learning exercise: users track their diet for 3 days, then look at trends on how mood, location and convenience influence diet.
See Eat It, Tweet It
Because I Care, I Wash My Hands

Ideally suited to child care centers, this fun, hands-on curriculum, packed full of songs, activities and experiments, helps even very young children understand why and how hand washing helps keep friends and family healthy.
Check out Because I Care, I Wash My Hands.
Chinese Food Safety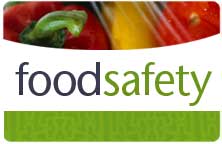 Six fun and interactive activities that can help Chinese speaking foodservice workers learn key food safety concepts. The activities are in both English and Simplified Chinese.
Visit Chinese Food Safety
Science Pirates: The Curse of Brownbeard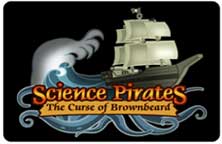 Learning science processes and food safety has never been so much fun! Pirate Science builds awareness of food safety issues through better understanding of science processes. Games, songs and scientific experiments give youth a better understanding of the "whys" behind good food safety practices based on the national science standards. The entire adventure culminates in the hero (the player's character) helping the desperate crew solve and 'break' the "The Curse of Brownbeard."
Currently unavailable. New version pending.
---
Videos & Animations
Don't Wash Your Chicken!

Although raw chicken and turkey can carry bacteria on their surfaces, research has shown that washing raw poultry under running water in your kitchen sink is a bad idea. This website includes fotonovelas, mini-dramas, recipes, and cooking videos to help spread the message. A short animation illuminates how poultry bacteria can contaminate kitchen surfaces and other foods.
Explore Don't Wash Your Chicken
Don't Be Gross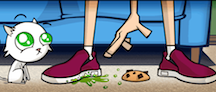 The Don't Be Gross! campaign was designed as an in-school food safety project, to raise awareness among teens about food safety actions they take each day that are unsafe and about positive steps they can take to prevent illness. Research shows the most powerful way to reach this age group is through peer networks and social norms.
Tasty Solutions For Diabetes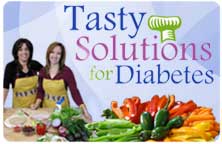 Join our co-hosts as they show you how to prepare everything from breakfast parfaits to lettuce wraps to stuffed mushrooms and savory sopa de lima. Not only are these dishes delicious, they are also part of a group of recipes that can fit into your diabetes eating plan. You will also hear expert advice from a prominent physician and psychologist, and you'll get to know two people with diabetes who are successfully living their every day lives.
The BAC Files (English, Spanish, & Navajo)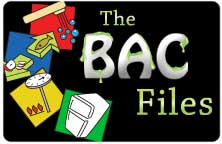 Designed for adults and older youth, this video uses an entertaining, informal style to teach viewers how to keep food safe to eat. Fighting BAC has never been so much fun!
Chinese Food Safety (English, Mandarin, & Cantonese)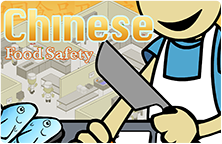 A successful Chinese restaurant owner teaches an apprentice that a reputation for safe food is the key to prosperity in the USA. He recommends keeping food surfaces clean, providing separate cutting surfaces for meats and vegetables, heating food to proper temperatures, and storing food safely.
It's Good Business: Processing Salsa Safely (English & Spanish)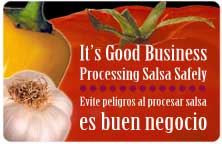 This video presents step-by-step instructions for processing chile salsa correctly in order to avoid foodborne illness or microbial contamination.
Processing Salsa Safely at Home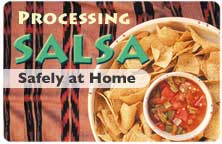 Everyone loves salsa. When you process your salsa correctly, you'll know it's safe. This video demonstrates how to process and preserve salsa safely at home using a United States Department of Agriculture-approved recipe.
Making It Safe: HACCP for Small Food Processors (English & Spanish)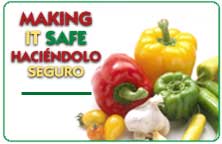 A Hazard Analysis Critical Control Points (HACCP) Food Safety Program designed for Small Food Processors in the Southwest.
Preparing Safe Mexican Foods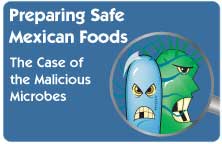 Preparing Safe Mexican Foods stresses the importance of having a monitoring program in your food establishment. It just makes good sense to protect your customers and your reputation by implementing a HACCP plan. This project was made possible by a grant from the USDA Food Safety Inspection Service.
La Vida de Matilde (Spanish)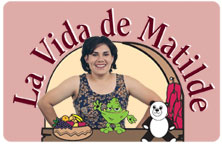 The video La Vida de Matilde (The Life of Matilde) is presented in a soap opera style. It follows Matilde over a period of several weeks as she opens her own home childcare. She becomes more aware of food safety issues and learns how to combat BAC, the bacteria food may contain if it is not properly prepared or handled.
Healthy Eating for a Healthy Baby (English & Spanish)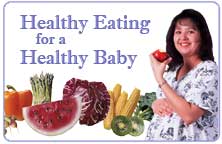 Before and during pregnancy, moms can give their babies a healthy start by eating right. Learn to use the Food Guide Pyramid to make healthy choices before and after giving birth. Find out the benefits of drinking plenty of water and eating lots of grains, fruits and vegetables. Young moms will learn that gaining weight during pregnancy is essential for their babies. Eating right can help ensure proper delivery, optimal weight gain and healthy, happy babies.
Baby Talk: Listening to Your Baby at Mealtime (English & Spanish)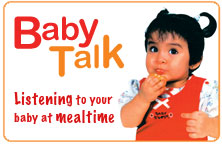 Even before they can say words clearly, babies communicate with "baby talk". Parents need to listen to their babies to find out when mealtime is over, when a second helping is in order, or when it's time to try new foods. Learn how to understand your baby's talk and help take the anxiety out of feeding time.
---
Legacy Projects
The Food Detectives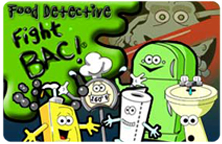 Food Detectives Fight BAC! This entertaining site for kids ages 8-12 includes songs, activities and arcade-style games. Through playing to learn youth understand the importance of the 4 key messages in the Fight BAC food safety program: wash hands and utensils, chill leftovers properly, cook food to the proper temperature and separate cooked food from raw meat and juices.
Play Food Detectives
Nutrition Decision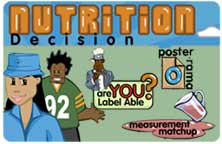 This series of games helps middle school students make better choices when selecting food by better understanding nutritional labels, serving sizes and the importance of activity. Designed for middle school age children, this website helps foster better understanding of nutrition labels found on most packaged food, and also the importance of exercise.
Play the games online at Nutrition Decision
---
To order, or for more information, call us toll-free at (888) 750-4156 or 575-646-2748 or via email at mmedia@nmsu.edu.