Dear Parents & Teachers:
Crazy About Corn:
Songs | Videos | Activity Books | About/Teacher Resources | Crazy About Corn
---

"Crazy About Corn," is a lively, fun-filled educational CD-ROM, which will help children absolutely glued to the computer! Enchanting characters like Cornelia, The Corn Monster, Super Corn, and the Corn Stalks sing original songs and lead games which help children improve pattern recognition, memory, counting, alphabetizing, geography, and elementary scientific concepts.

Developed by Educators
This package playfully teaches children about corn in early American History, the impact it has had on our culture and the nutritional and economic value corn and the nutritional and economic value of corn in our modern society.
Enchanting Songs
The fifteen original songs will have children (and you, too!) singing and humming along with the title tune ,"Crazy About Corn,"and others such as, "The Blue Corn Blues," on your computer or home stereo. Particular appealing is "What Matters Most Of All," which reminds children that it's what's inside that's really important.
Free Activity Book Inside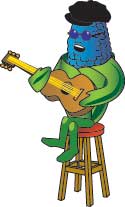 As added value is an activity book based on the material from,"Crazy About Corn." This book includes puzzles, games, and creative and fun activities the whole family will enjoy.
Award Winning
"Crazy About Corn" has won the prestigious Golden ARC Award for 1998, awarded First Place in the CD-ROM Teaching Tools category. It has also been awarded the ARC,"Best of Show," Gold Award for graphic design and informational technology.
Educator Approved
"Crazy About Corn," was developed by the Cooperative Extension Service Electronic Media Unit of New Mexico State University. It has been approved by the New Mexico State Board of Education for curriculum use in schools throughout the state. As you and your children play this CD over and over again, you'll soon be as crazy about corn as we are.
Enjoy-
The Crazy About Corn Team